Monday
The week's beginning took us firstly to Tokyo Tower. Miwa was doing a half day at work, so I was tasked with navigating my own way to Daimon Metro Station. This was equally exciting and terrifying for me. What if I got lost? What if I fell in a hole? What if I got taken?
Fortunately, none of the above happened. I topped up my Pasmo card, and made the journey successfully.
"Conveniently covered the 'p' there"
"Made it to Daimon!"
First up was lunch; Takomiyaki! Like a fritter, these balls are golden crisp on the outside, and soft on the inside. A piece of squid at their center. Mmmmm.
A short walk away was Tokyo Tower. A beautiful sight, which bears striking resemblance to the Eiffel Tower. The entrance to the tower was super swanky, and after a short elevator ride, we were looking over the city of Tokyo.
Next we headed to Odaiba, on the Monorail! Yep, you heard it right, monorail. I was so pumped. To me, monorails have always been this fantastical idea of a futuristic world, so do be getting on one casually on a Monday afternoon was pretty exciting to me.
The ride was smooth and silent, and we glided through the city, over the rainbow bridge pictured above and the Tokyo waterfront.
On the other side is Odaiba; a popular tourist destination. There lay four gargantuan shopping malls set in beautiful surroundings on a manmade island. Each mall had a theme, and whilst some had similar stores, their interiors were so different, that each mall was a completely unique experience. We did an incredible 21,000 steps this day; so as you can tell, there was a lot of ground to cover and a lot to see.
My favourite section of one mall was Daiba Itchome Shotengai styled upon 1950's Japan. Full of arcade games, sweets, toys and trinkets from back in the day. I felt like a genuine kid and the candy store and pretty much wanted to buy everything, but honestly showed great restraint. If we had stumbled across a Tamagotchi, I probably would have bought 75, but alas I didn't spot any. There's always next time!
In another mall, there was a '100 yen' store which I will loudly proclaim to anyone trumps Poundland, Dollar Tree and any other shops equal in monetary value. I did the majority of my souvenir shopping here and was chuffed to bits. I won't disclose just how many 100 yens I parted with here.
"We tried out the popular photo booths in one mall, which allow for extreme customisation! Here's Miwa being a pro and jazzing up our photoshoot pictures."
In the third mall, we had Katsu for dinner at Katuraku which was delicious! Deep fried chicken, and other meats, served with rice, pickles and miso soup. I washed it down with green tea and my first Sake. We also admired our Disney tickets bought earlier in the day!
Another great mall design came later from Venus Fort which invited they're customers to shop as if they were in Venice! As night time had fallen by the time we visited the mall was dimly lit but illuminated by the blue 'skies' overhead and lights shining from venetian architectural façades. Classical music played punctuated the soothing sounds of water circling the large fountain. A real experience was to just be there, then the actual shops were a bonus.
It was now about 8, our feet were aching, and our legs were sore. What better to do at this point than soak our weary bodies at Onsen, which was just about a twenty minute walk away. I was apprehensive at first about being stark naked as the day I was born amongst others in a public setting but Miwa assured me it was nothing to worry about.
In hindsight, self-conscious apprehensive me can confirm she was right! Visiting such a spa is definitely a must if you're visiting Japan. It's a beautiful part of the culture. On arrival you are invited to take off your shoes and lock them safely away, from this point on you're barefoot and the experience begins.
"The entrance to Odaiba Ōedo-onsen-monogatari"
Upon checking in, it's time to pick your kimono and belt. There are four designs and coloured belts to chose from; as you can imagine, this was tough choice for indecisive me to make. From there, it's further onwards to the locker room where you'll strip down to your underwear and don your traditional garments. Once dressed, you can explore the park area of Onsen. In this beautifully decorated hall you'll find everything from food, to games, to spaces to book massages and arrange for those little fishes to nibble your feet! Many hours could happily be whiled away here.
We first got our feet wet at the foot spa. The courtyard was lit up beautifully with blue and purple hues. You cross a bridge to enter, and are met by a little lake which snakes around the grounds. This is the foot spa. To navigate it, you will need strength of mind and of balance as throughout the grounds and water itself are areas featuring stones of various sizes. Some sharp, some dull, some large and some small. Walking over these stones, is torture to your feet a massage for your feet which is said to stimulate your nerves and be really good for you.
At the time of crossing, I felt pain, but upon finishing, I genuinely felt much lighter. Perhaps as if my spirit had been altered…or more likely the joy of walking on ground that was not peppered with stones!
Next up was naked time. We strolled back through the main entertainment area then took a different hallway which lead to the bathing room. Here there a more lockers, so you can lock your kimono and underwear inside and bare all in preparation to enter the baths.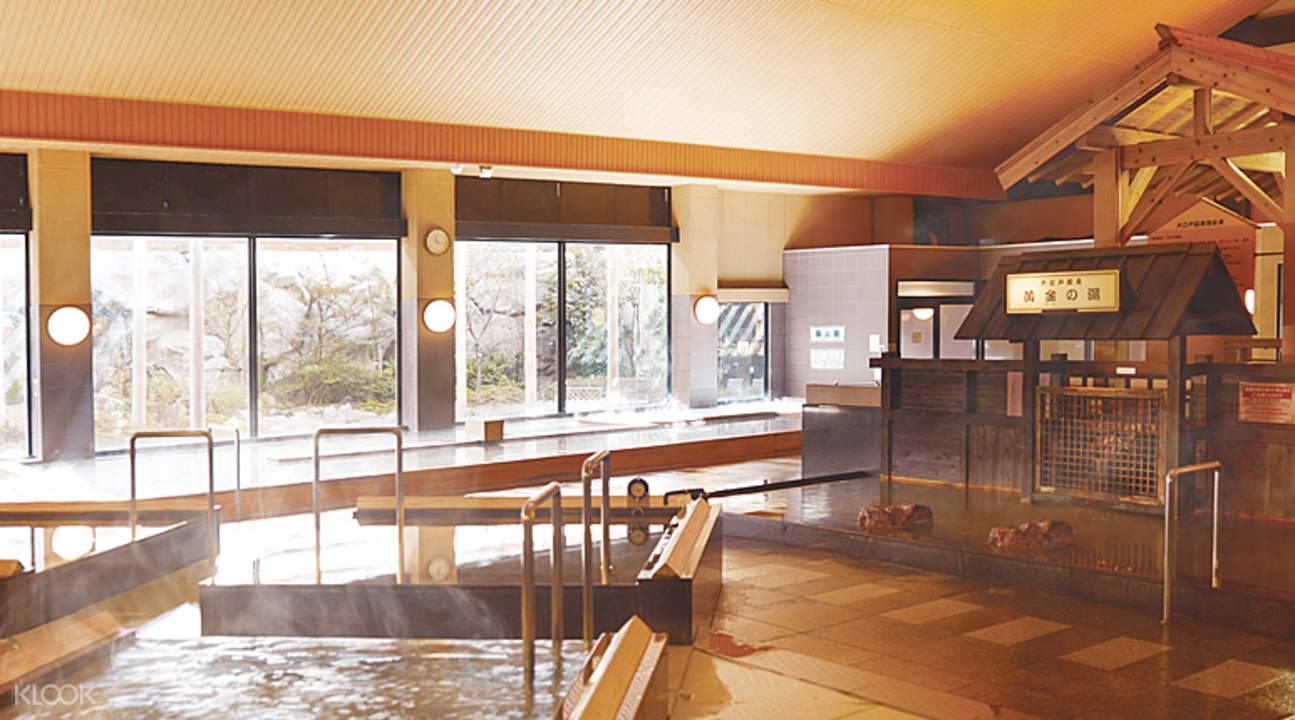 "Picture of the bathing room" – photo credit: Klook
It was a large room, punctuated by several baths, all unique in what they offer. There were still baths, ones with bubbles and jet streams, and then those varying from hot in temperature to cold. I steered well clear of the latter. The room was quiet and peaceful despite the many people milling about. The only sounds being those of nondescript chatter amongst friends and the sounds of water running and being waded through.
The space was warm and comforting, and made you forget all about being in the heart of the city. I would liken stepping into the bath room as entering a big hug, welcoming and comforting. Beyond the glass on one side of the room, was an outside area which featured even more baths. These were mostly warm, which was a nice contrast against the cool night air. The shallow waters out there, sparkled with the light coming from inside.
All in all it was a really beautiful experience that I'm glad I didn't let my own fears get in the way of me trying.
Finally, it was apt time to head home. A monorail, then the metro to Monzen–Nakachō; our home station. This evening we picked up some snacks from 7/11 for the evening and breakfast for the next day. I got my signature Onigiris and felt great peace as my head hit the pillow. For the morning would bring the long anticipated visit to where mine and Miwa's friendship began – Disney!